ballet birthday invitation cards - purple pink custom girl 1st birthday party or baby shower invite printable personalized dance
SKU: EN-L20506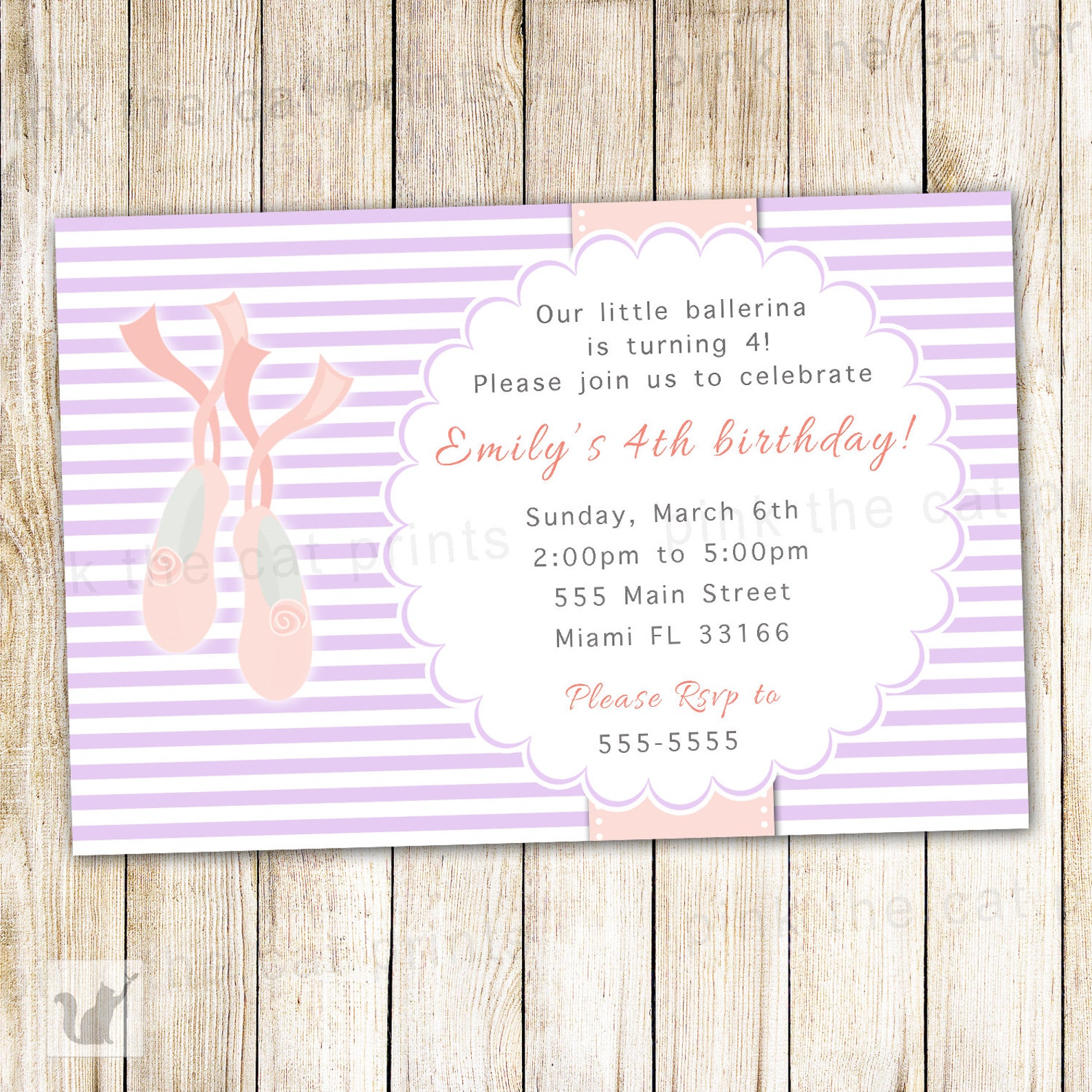 ballet birthday invitation cards - purple pink custom girl 1st birthday party or baby shower invite printable personalized dance
The questions in the works vary from explorations of the boundary of the universe to the artists' own personal boundaries. The show is co-curated by Marian Yap and Deanna Taubman. Yap, in her painting "Exodus," considers "the biblical activism of people seeking their own boundaries to live in freedom.". Alysanne McGaffey explores "Boundaries of the Soul." Describing her painting, she cites the Joseph Campbell poem "The Old Woman": "As a white candle in a holy place, So is the beauty of an aged face.".
Not to everyone, of course, ballet birthday invitation cards - purple pink custom girl 1st birthday party or baby shower invite printable personalized dance Some have abandoned the format in favor of single-song digital downloads, Yet there are still many music fans who cherish full-length albums as much as ever, Count me among that crowd, That's the reason I treasure the chance to look back at the 10 albums that mattered the most over the last 12 months, starting with the most impressive, 1, "The Outsiders," Eric Church (EMI Nashville): Church conquered the country music world with 2011's mega-popular "Chief." So what does he do for an encore? He goes in the complete opposite direction and delivers his least commercially friendly outing to date..
"Nutcracker in China — Dream of the Golden Phoenix": Production adds traditional Chinese stories to "Nutcracker" fable, presented by New Century Dance Company; 7:30 p.m. Dec. 23; Mountain View Center for the Performing Arts; $20-$30; mvcpa.com. Oakland Ballet: Presents Graham Lustig's  adaptation of "The Nutcracker"; 1 and 5 p.m. Dec. 23, 1 p.m. Dec. 24; Paramount Theatre, Oakland; $29-$90; oaklandballet.org. "The Velveteen Rabbit": Annual production drawn from Margery Williams' beloved children's book, presented by ODC Dance; through Dec. 10; Yerba Buena Center for the Arts, San Francisco; $15-$65; 415-863-9834; www.odc.dance.
Pope works with both parents, but the majority of her attention is on the needs of the mother, That's because she has been through many of the joys and anxieties of her clients, The first season dealt with Pope's successful effort to get pregnant despite being told she wouldn't be able to have a ballet birthday invitation cards - purple pink custom girl 1st birthday party or baby shower invite printable personalized dance second child, The third pregnancy also wasn't supposed to be possible, As Pope puts it, she's the most fertile infertile person on the planet, She knows there is a need for a dad version of what she does, especially after dealing with one father who had Couvade syndrome..
"Decade the Halls Vol. 1," Tenth Avenue North: What a cool concept for a holiday album. The popular contemporary Christian music band takes listeners on a ride through the last 100 years of Christmas music, covering one song per decade from the 1920s to present day. Guest stars include Jon McLaughlin, Zach Williams and Sarah Reeves. ($9.99 CD/streaming, $24.99 vinyl; tenthavenuenorth.com). "The Queen Is Dead," The Smiths: It's widely considered as one of the best indie-rock albums ever made. Indeed, the music publication NME once went so far as to name the 1986 platter as the single greatest album — of any genre — of all time, topping The Beatles' "Revolver," Nirvana's "Nevermind," Patti Smith's "Horses" and other acclaimed offerings. Yeah, it's pretty great. And it certainly sounds stellar in these newly remastered and expanded editions from Warner Bros Records. The offering include a 3-CD/1-DVD boxed set and a 5-LP set. ($39.98 CD/DVD set, $99.98 LPs, www.officialsmiths.co.uk).